How to get a Sak Yant Tattoo Bangkok Thailand
Getting a Sak Yant Tattoo Bangkok ... from Wat Bang Phra
Get a Traditional Thai Sak Yant Tattoo Bangkok, Thailand

The Sak Yant Tattoo is an awesome Cultural and Spiritual experience that has never been easier to get for yourself. Compare the options with How to get a Sak Yant in Bangkok or Chiang Mai
1) Wat Bang Phra in Bangkok
2) Sak Yant Arjan in Bangkok
3) Sak Yant Tattoo in Chiang Mai
Options for to get a Sak Yant Tattoo in bangkok

Your options for getting a Sak Yant Tattoo in Thailand consist of the following

1) A Monk at a Wat Bang Phra Temple
2) An Ajarn at their Samnak
3) Via a Tour Company or local guide who can take you to either and translate for you

Following are details of the some of your options when getting a Traditional Thai Sak Yant Tattoo in Bangkok.  First is Wat bang Phra, the most famous Sak Yant Tourist Attraction, and then a list of some Sak Yant Arjans in Bangkok, Thailand.
You should however NEVER get a Sak Yant from a Tattoo Shop.  Not only are they fakes, they usually cost several times more and with access to Real Sak Yant Masters, there is just no reason to pay more for a fake Sak Yant
Wat Bang Phra - Sak Yant Tattoo Bangkok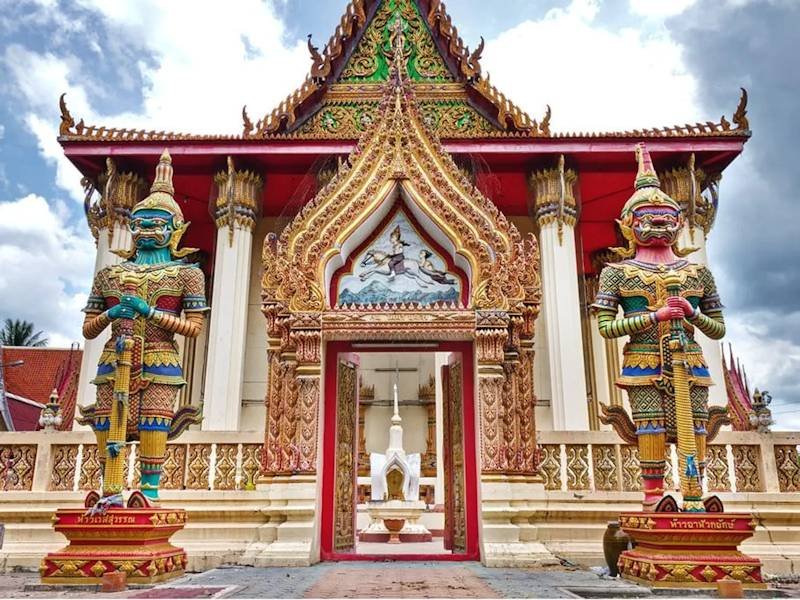 Wat Bang Phra just 50 km out of Bangkok is famous for it's daily mass Sak Yant Tattooing.
Generally you will arrive around 8am and buy your offering, then sit and wait with other people. Men and women are divided into two groups, the Men get their Sak Yant from a Monk, while the women are usually sent to an Ajarn on a different floor.
The Sak Yants are done in groups of about 20 people. When the previous group is complete, the monk blesses the next batch of offerings observed to be between 18 and 30 people at a time.  Sometimes at busy times the day can end without you having an opportunity to see a Monk.
Many of the blog posts you will find on the internet are from people who went to Wat Bang Phra. It is from these sources of information you will be warned about the unhygienic repetitive use of the same needles, ink that contains snake venom and charcoal, No choice of Sak Yant Design (The Monks Choose) and other such practices that tend to occur when you are part of a mass group with limited time.  By being prepared you can avoid most of these concerns.
Wat Bang Phra is a globally recognize institution, with many Ajarns crediting their start to the Temple.  Wat Bang Phra holds yearly the Wai Kru ceremony where thousands of Thais go to get their Sak Yant Re-blessed; (often being possessed by the animal spirits of the Sak Yant).  Wat Bang Phra is the number one choice of many Thai's and tourists alike in the Bangkok area.
Wat Bang Phra is the central icon of the Sak Yant world, and while they have not modernized to meet the hygiene standards of the western world, it remains the most popular and well known Sak Yant facility in the world
Is Getting a Sak Yant Tattoo in Bangkok at Wat Bang Phra for you?

Wat Bang Phra is the birthplace of modern Sak Yant Tourism.  It does without doubt hold a special place in the eyes of many Sak Yant enthusiast, as it was the place where they first received their Sak Yant.  Wat Bang Phra also has the most famous lineage of Sak Yant Monks primarily due to it's age and promotion of Sak Yant Masters of the past.
However despite or perhaps due to it's fame, Wat Bang Phra might not be the best option for most people.  They have been criticized often, for remaining in the past, with unhealthy hygiene standards, making people wait all day in the heat and the promotion of crazed followers during their yearly Wai Kru Celebrations.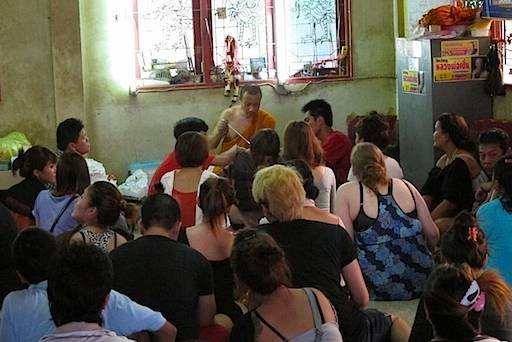 It is not uncommon for Wat Bang Phra to have 40-100 people a day to receive a Sak Yant.  This means customers are often crowded together on concrete floors, intense heat and have to wait sometimes all day.

It is not uncommon for a person to not have time to receive a Sak Yant Tattoo in Bangkok from Wat Bang Phra their first attempt. 

Although post Covid with less tourists crowded into the rooms this should not be an issue any longer until tourism in Thailand returns.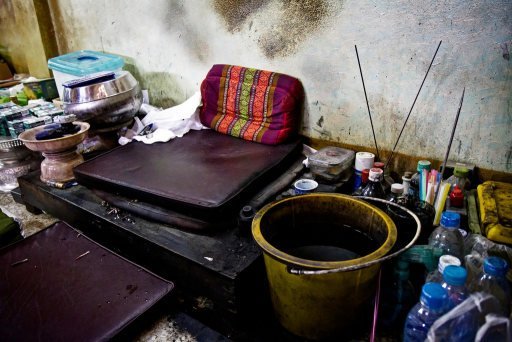 Many blog posts written about getting a Sak Yant in Bangkok at Wat Bang Phra often talk about the unsafe way in which tattoos are applied.
This is for 3 main reasons,
The Monks believe the Magic of the Sak Yant protects from un-sterilized practice.
Just too many people going for time to replace each needle
Many people only give the Temple offerring (not giving a Monk Donation). It is the latter that allows choice of design and pays for new ink and needles
Every year Wat Bang Phra has it's Wai Kru (a time to honor Sak Yant and have them re-blessed).  There are many videos available showing many Thai attendees going into a trance and acting out the tiger, or snake represented in their Sak Yant design.
While a very fascinating thing to watch, many of the Sak Yant Masters outside of Wat Bang Phra look on this 'possession' as hysteria and weak mindedness.  They feel promoting this spectacular power rather than being more concerned for the problems the attendee might have is not the right direction of assistance. 
How to Get to Wat Bang Phra

Sak Yant Arjans - Sak Yant Tattoo Bangkok
A Sak Yant Arjan, also called a Sak Yant Master is usually a former Monk who has decided to follow the Magical Arts as a career choice after leaving the Temple and life as a Monk.  Sak Yant Arjans tend to have greater skills than Monks and higher living costs, so prices vary depending on location and fame.
Ajarn Fluke Sak Yant
369 Phattharaniwet Samakkhi Village
+66 95 558 8578
Ajarn Noo Kanpai Sak Yant
Bang Khayaeng
Ajarn Fu Sak Yant
Soi 6, Rarm Intra Road
+66 85 736 9784
Ajarn Neng Sak Yant
288/296 Phueng Mi 50/24 Alley
+66 85 075 9061
Ajarn Ta Sak Yant
147/7 Sukhumvit 4 Soi Samahan
+66 95 251 8767
Sak Yant Tattoo Chiang Mai Thailand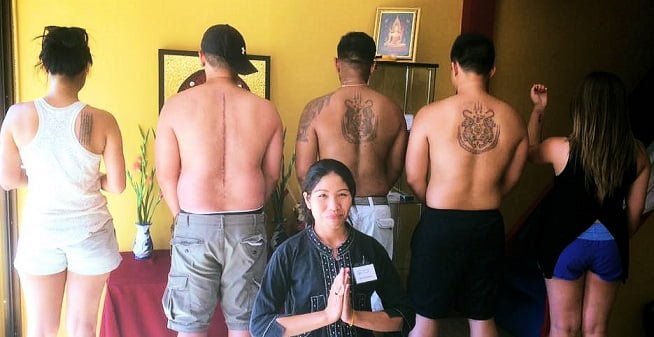 For those people who want a more imitate Sak Yant Experience, where hygiene standards are similar to those found in the West;  then Chiang Mai, Thailand is the place to go. 
Sak Yant Chiang Mai is a co-op of many local Monks and Ajarns, coming together to provide guests with knowledge and awareness of what they are doing before getting a Sak Yant.
One Chiang Mai Local (Khun Nana) has been quietly providing the opportunity for people to get a Traditional Thai Bamboo Tattoo (Sak Yant) since 2015.   Nana's Sak Yant Tattoo Tour experience is a small private tour where one or two people at a time are taken to local Thai Temples, with real Monks to get a Thai Bamboo Tattoo.  
In November 2016 she opened a small shop in Chiang Mai's old city where visiting Monks and Ajarns perform the Sak Yant Tattoo and Blessing in a private and intimate setting.  Nana has gone out of her way to ensure all the Monks and Ajarns she takes guests to, use new needles for every Sak Yant Tattoo and provide excellent artistic detail.
What are your Options for a Sak Yant Tattoo in Chiang Mai?
Sak Yant Chiang Mai has a wide variety of different Sak Yant tattoo experiences to suit your budget and time constraints.  For those wanting the full on experience there is a half day tour where you are driven to a Monk at their Temple.  Or if you have found a particular Sak Yant Master in Chiang Mai that appeals to you, Sak Yant Chiang Mai will take you your Ajarn of choice.  Unlike other providers who have a single destination and limited design choices; At Sak Yant Chiang Mai, we have a selection of over 10 Sak Yant Masters and over 200 designs.
The other option is Sak Yant Chiang Mai's In-House service.  Here each of the Sak Yant Masters (both Monks and Ajarns come into Chiang Mai's old city to provide the Traditional Thai Tattoo and blessing.  The In-House service and the Temple Tour service both offer the same Sak Yant, the same blessing from the same Sak Yant Masters.  The Tour option still exists for those who want to experience the full adventure of going out to a rural Temple and receiving the Sak Yant at the Monks home ground.
The tour option will require following stricter protocols of behavior, standard of dress, and females can not get a Sak Yant from a Temple (we have a Monk who has his own Samnuk).  Out at the Temples, it is physically less comfortable (concrete floors and no AC) where as In-House we have carpeted flooring and Air Conditioned rooms.  A Temple tour will take about 3 hours, where as the In-house are hour long appointments.  So your age, desire for comfort and time restrictions can factor on your best choice.
At Sak Yant Chiang Mai, you can book a time online, either a Tour to a remote Temple Monk or one of the visiting Monks or Ajarns who work from a Samnak (scared Sak Yant Room) from an location in Chiang Mai's old city. The experience is an intimate one on one with a guide who asks you the reason you want a Sak Yant, shows you designs that suit that specific purpose, translate this to the Monk who can then create an individual Sak Yant that is chosen by you.
Your Sak Yant is individually blessed, and the staff ensure you have photos to remember your experience. Afterwards you can sit and relax in the meditation garden with a snack and well as having the aftercare treatment for a tattoo explained.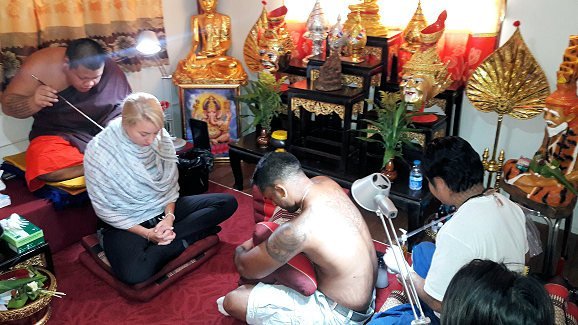 Sak Yant Chiang Mai is Thailand's leading Sak Yant provider – Over 10 Independent Sak Yant Masters working in Hygienic and comfortable Samnaks
Common Myths about getting a Sak Yant
One of the biggest reasons that there are so many Sak Yant Myths and Information created by Travel Bloggers is that they choose to go and get a 'cool tattoo' on their own.  The lack of any knowledge about the tradition, the inability to speak Thai and express the reasons for getting a magical blessing meant that in order to write a blog about the experience they had to guess what just happened.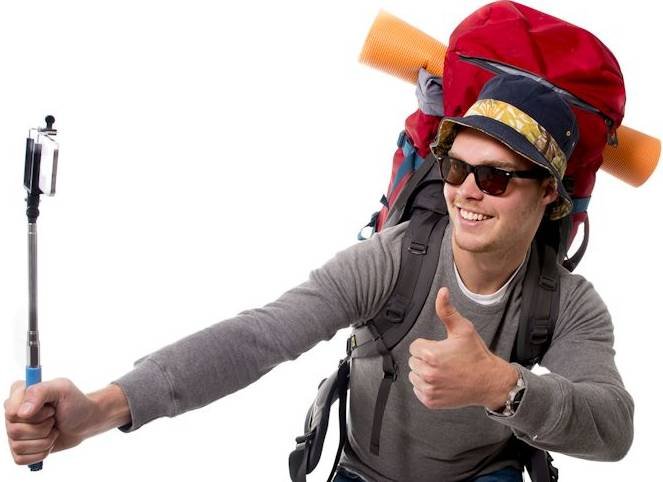 Almost all of them guessed wrong, or copied incorrect information which includes being disrespectful and cheating Monks, had no idea how to choose the design and understand the meanings of their tattoo, or actually just went to a Tattoo shop and got a normal Tattoo. Many of these people will attempt to justify this with comments like "The difficulty/adventure is part of the rewards of the experience".  However often their 'adventure' would horrify the Thai people with the amount of social taboos they committed and then wrote about concerning what is considered a highly spiritual and religious event.
There is of course nothing wrong with getting a Sak Yant Tattoo on your own, it just pays to have done the research and acquire the knowledge to do it respectfully.
The biggest issues real Sak Yant practitioners face giving westerners a Traditional Tattoo.
The Sak Yant is a highly regarded spiritual practice, that the Sak Yant master takes years to learn and keeps a pure lifestyle to generate the personal power to give the magical blessing. The Sak Yant consists of two parts
1) The Design
2) The magical incantation and blessing
So unless you speak Thai, you
1) Can not tell the Ajarn what you desire
2) Run the risk of insulting traditional Thai customs associated with holy men
For this reason many Ajarns prefer that the westerners who come to them do so with the help of a guide who is able to teach and translate in English. Not many speak English, but more often they are having an English speaking staff member or girlfriend sit in with the customer.
Incorrect Information that you should avoid thinking before getting a Sak Yant
While getting the Sak Yant Experience might be a cool adventure for you, for the Sak Yant Master it is a precious gift and blessing that is sacred and holy to them. You should ensure that you understand much of the information you may think you know is wrong, including but not limited too.
* A Sak Yant is by donation of whatever you think appropriate
* The Inks contain ingredients like henna that makes allergic reactions a possibility
* A real Monk can not touch a women so females can not get Sak Yants from Monks
* Sak Yants are done with a Bamboo Needle
* You need to follow strict rules after getting a Sak Yant
* The same ink and needles are repeatedly used
* The Monk or Ajarn chooses the design
* Monks can read Auras
While you may not use the services at Sak Yant Chiang Mai, nether-the-less the information provided in our Sak Yant frequently asked questions holds true throughout Thailand and will clear up these myths and provide you with real facts from the Sak Yant Master's themselves.
If you want further information you can read Sak Yant Myths and Information created by Travel Bloggers which highlights things to be wary of before booking or making your final decision on where to go and how to go about getting a Sak Yant in Thailand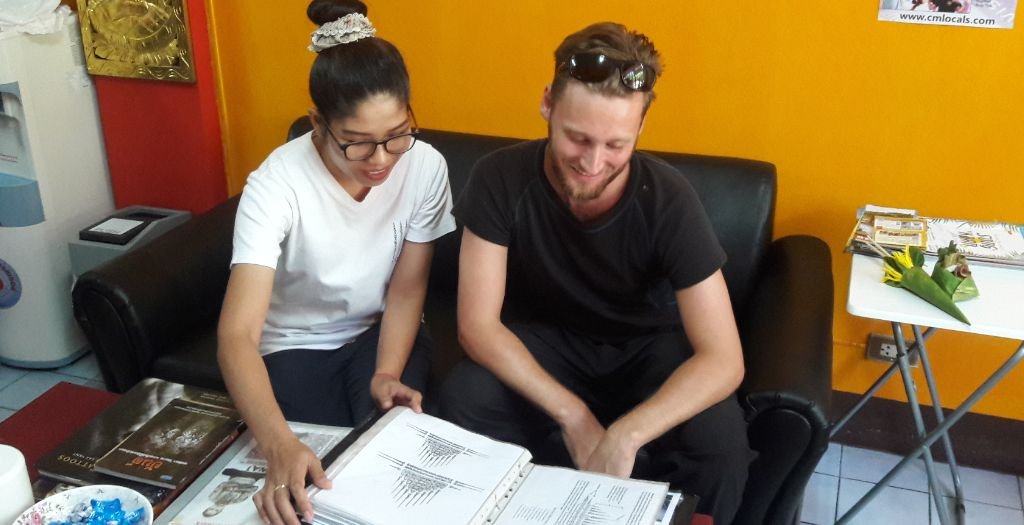 Talk to us about your Intentions
We understand all the options can make the choice a difficult one. When it comes time for you to make a booking just let us know ….
Temple Sak Yant or In-house Service
If you are Male or Female (Or if both tell us in the notes)
We will take care of all the rest and ensure you have a magical experience by selecting from one of over 10 Monks and Ajarns we have available.
Book Additional People on your Sak Yant Tattoo Experience
1500 Baht Extra per Person getting a Sak Yant (Save 1000 Baht)
500 Baht for friends just wanting to watch
Our In-house service, it is free for your friends to watch