Traditional Thai Sak Yant Tattoo and Blessing
100% Genuine Traditional Thai Sak Yant Tattoo with Monks Magic Blessing at Temples in Chiang Mai. Available for both Men and Women from Real Sak Yant Masters
Get a Traditional Thai Bamboo Tattoo - Sak Yant Chiang Mai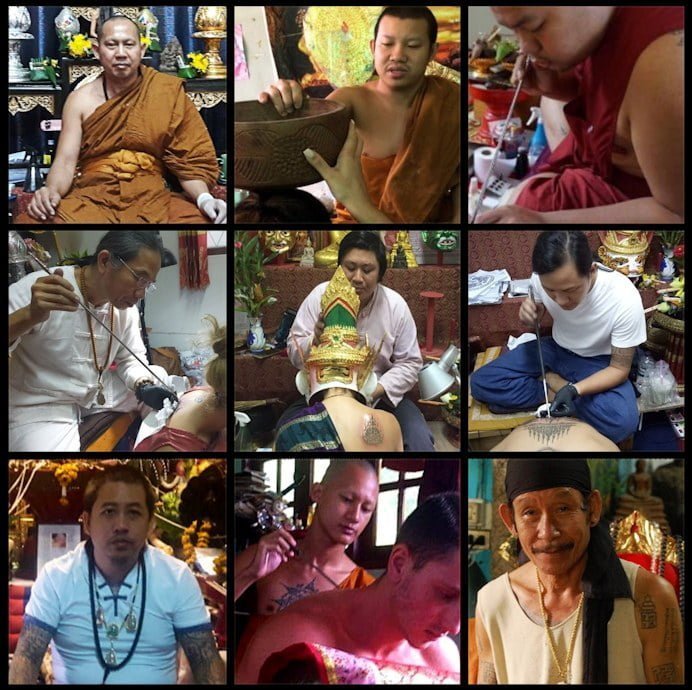 Sak Yants for less than half the cost of other Providers
Getting a genuine traditional and spiritual Thai Tattoo in Thailand has never been easier. Sak Yant Chiang Mai is a co-op of local Sak Yant Masters joining together to make a one stop venue where you can learn about and obtain  the popular Yantra Tattoo. If you decide one is right for you, you can book a time and receive a real Thai Tattoo with blessing.
Sak Yant Chiang Mai is the only place in Thailand that has both Independent Monks and Sak Yant Ajarns working together. We provide English speaking assistants to explain and ensure understanding of the Sak Yant Process, and a quiet, traffic noise free environment with meditation garden to relax after the experience.
With so much mis-information presented online from travel bloggers about the Sak Yant, we ensure the person getting a Sak Yant is given correct understanding of their ability to choose a design and the correct protocols when in a room with a Sak Yant Master. And we do this for almost half the price of a Fake Sak Yant from a Tattoo Shop or WSE Traval Inc who use the same Ajarns.
This approach has made Sak Yant Chiang Mai the leading venue for learning about and receiving a guided traditional Thai Tattoo in Thailand. Now you too can obtain an authentic Sak Yant Tattoo, from real Monks and Sak Yant Masters with complete confidence.
Get a Spiritual,Traditional, Thai Sak Yant Tattoo with Blessing in Chiang Mai
Our Sak Yant Tattoo Services
Choose from a Sak Yant at a Temple with Monk or Ajarns Samnaks or our In-House service within Chiang Mai City
Sak Yant Chiang Mai Temple Sak Yant is an incredible experience as you are taken to beautiful remote Temples in the Chiang Mai countryside and experience a Traditional Thai Sak Yant Tattoo from a real working Monk.
2500 Baht (1st person) and discounted 1500 Baht (each extra person) plus cost of Sak Yant Donation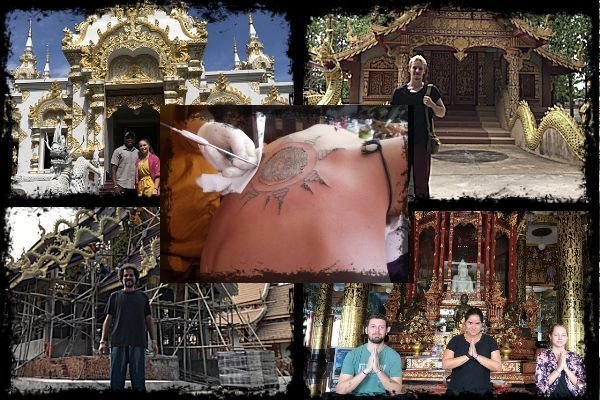 Service currently not available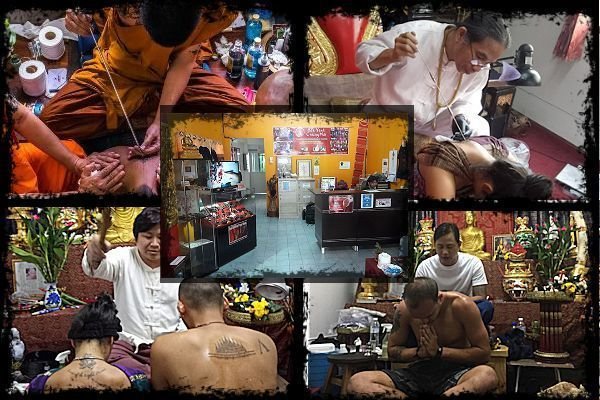 Sak Yant at our shop location in Chiang Mai City the private Samnak (Holy Rooms) with AC and carpet. Where many famous Monks and Sak Yant Masters (Ajarns) in Chiang Mai come in on different days. 
Idea option for people with limited budget or time and females wanting a Traditional Thai Tattoo from a Monk
Starting at 2000 baht per hour including the donation
Why Sak Yant Chiang Mai is Thailand's Premiere Guided Experience for a Genuine Sak Yant Tattoo Experience
100% Real Sak Yant's & Magical Blessing with Monks & Ajarns
Half the price of Tattoo Shops or Bangkok & Phuket Sak Yant Masters
200+ design choices of Sak Yant
Off main traffic streets, quiet location for a peaceful and noiseless experience
Full personal customization of design and Blessing
Our pricing is standardized! No sliding scale (no kickback commissions)
We are a Thai owned Co-op exclusively providing Sak Yant's.
Beautiful Traditional Thai Tattoo artwork from Sak Yant Masters
We talk with you to determine your Sak Yant Design and Magical Blessing
We translate your personal reasons to the Monks or Ajarns
We arrange  personalized design or blessing if required.
Use safe and hygienic practices including new ink and needles for each guest
Pre-booked appointments either Tour to Temple Monk or In-house
An explanation of the protocols and etiquette of visiting a real Thai Monk.
We provide medical aftercare for your Sak Yant Tattoo.
The only Sak Yant service in Chiang Mai where Monks and Ajarns work together
Females are able to get a Sak Yant Tattoo from Monks
What makes Sak Yant Chiang Mai the Place to go?
Authenticity
Thai Co-operative of individual Sak Yant Masters, including both Monks and Sak Yant Ajarns who work together to provide an authentic experience for the guest. At Sak Yant Chiang Mai, all we do is Sak Yant tattoo's. We do not up-sell other tours, we do not deliver food or make custom suits, we do not take you to Sak Yant Masters that have arranged to slide up the cost to give a kickback commission. We are full-time, dedicated to the Sak Yant Tattoo
Credibility
A co-operative of local Monks and Ajarns who have joined together to bring the Sak Yant experience from a provider who educates and ensures proper respect and protocols are followed. Sometimes this means we do not allow some people to receive a Sak Yant if they are not suitable. We have 1 star reviews from some of these people, but will maintain the traditions and respect of the Sak Yant at the cost of a bad review. We are proud to be the ONLY Sak Yant provider who has earned the trust of the Monks and Ajarns that they feel comfortable working with us from our location.
Cost
We have standardized the cost of the Sak Yant depending on time and complexity, and among different Ajarns. As a co-op we have set a price that does not include the commission you pay to Taxi's or other part time tour guides. For example what we offer for 2000 baht will cost you 5 times more in Bangkok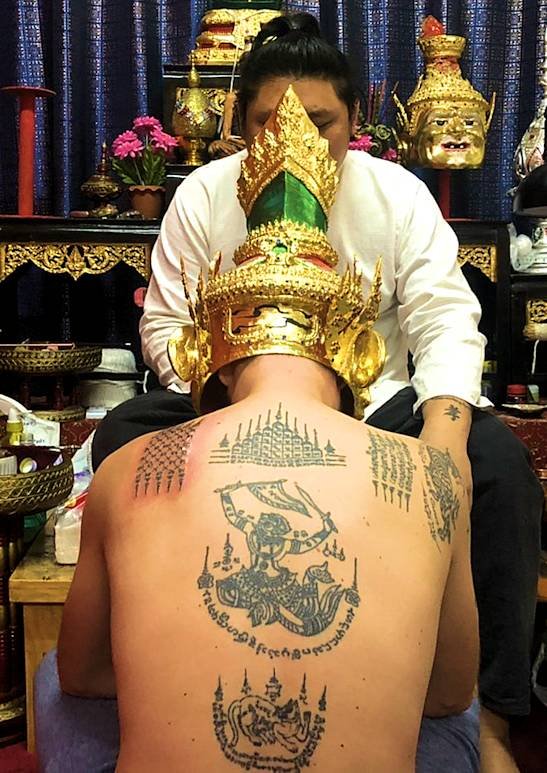 There are several points that make us unique
First and most importantly Sak Yant Chiang Mai are the only place that Monks come to us to preform Sak Yant Tattoos – That in itself is as close to an official stamp of approval anyone can get.
Second, we have a variety of Monks and Ajarns that work with us, other providers have only one option. We can customize the experience, others provide a package.
Third We offer both Tours for those wanting the traditional full on experience, and In-House for those on a budget or limited time.
Fourth we do NOT get commissions from Monks or Ajarns (as we are a co-operative), in fact we have arranged for cheaper donations as we bring daily guests.
Fifth we offer before and after experience care. We discuss with you designs, your intentions (if you believe in the magical aspects), help with unique designs and provide new ink and needles for each guest. Afterwards we have a meditation garden to relax and come back to earth after your spiritual adventure, Antiseptic ointment for your Tattoo, coffee or tea and instructions for taking care of your Yantra.
Compare your Sak Yant Options
Which is better for you? The Temple Tour or the In-House Experience?
Find out how the two services compare depending on cost, time, gender, etc