Muay Thai Tattoos Sak Yant for MMA Fighters
Designs and Meanings of Sak Yant Tattoos for MMA and Muay Thai Fighters
Mixed Martial Artist and Muay Thai Tattoos
Many Mixed Martial Artists, UFC Fighters and Muay Thai fighters who train in Thailand will end up with a Muay Thai Tattoo Sak Yant. The Sak Yant Tattoo for Fighters contain magical blessings for Luck, Victory, Health and show a Spiritual dedication to the Martial Art and Culture of Thailand. Find out the Most popular Fighter Tattoo Designs, their meanings and where to get them
Designs and Meanings of Muay Thai Tattoos Sak Yant for MMA Fighters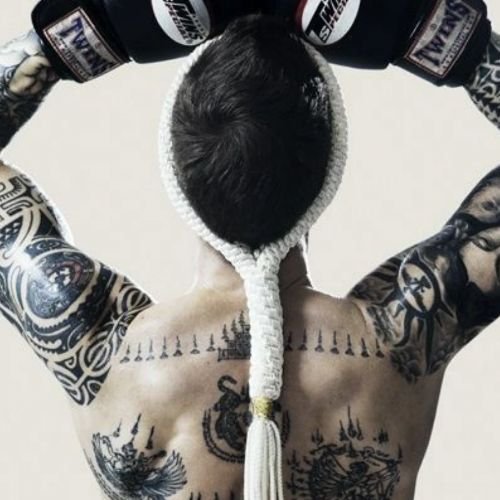 Muay Thai Tattoos for the MMA Fighter
Have you ever wonder what the Sak Yant Muay Thai tattoos mean? Or why so many UFC Fighters and Mixed Martial Artist around the world are sporting such unique Tattoos?
Thailand is a Buddhist country with many temples and monks, which have powerful religious beliefs. Thailand is also very spiritual, that most things, including Muay Thai and even the tattoos in Thailand have a spiritual meaning.
The Sak Yant Tattoo can only be done by trained Monks and Magical men (almost always in Thailand) and contain magical blessings for the fighters for protection, good luck, success, power, dominance, health and other desirable attributes.
As many pro fighters end up in Thailand for Muay Thai training, it is quite common for them to get a Muay Thai Sak Yant tattoo, not only for it's magical benefits – but to also show appreciation and admiration for the Thai Culture and their trainers.  Of course having a permanent magical blessing of a Sak Yant Master, doesn't hurt either.
These tattoos are called a Sak Yant (Sak – meaning "to tap" or "to tattoo", and Yant – meaning "Yantra") and are different to a regular tattoo, as traditional tattoos are for aesthetics only.  Go here to find out more about What is a Sak Yant Tattoo
---
The reasons for getting Muay Thai Tattoos: Sak Yant for MMA
Sak Yant's strong presence in Muay Thai Tattoos and a growing number of UFC and MMA fighters comes out of the both the cultural history and potential health risks of the sport. The power of the Sak Yant grew in Thai culture after many warriors developed a reputation of being ghost like in the impossibility of harming or killing them in battles centuries ago.
The seemingly invincibility was attributed to the Sak Yant Tattoo's, and for hundreds of years they have been used by people in dangerous occupations for extra protection.  Many occupations and hobbies, from Police, Army, Rescue workers, criminals and Muay Thai have used the traditional Thai Tattoo for the benefits of protection and success.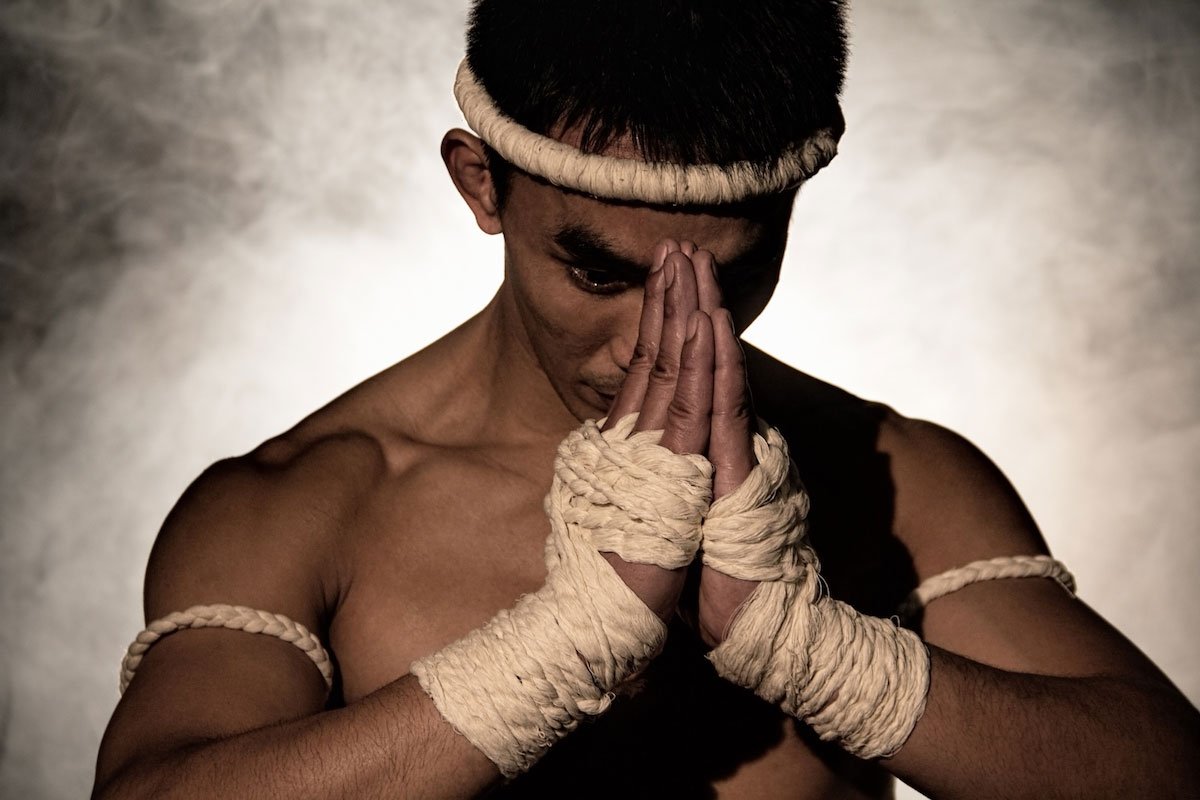 In addition the Traditional Thai Sak Yant Tattoo can offer help in developing certain personality traits.   Each pattern of Sak Yant Design and Meanings contains a magical blessing to bring about these qualities in the wearer.  Obviously the Sak Yant Tattoos for MMA and Muay Thai Fighters are going to focus on protection and strength, but the use of designs can also be used for a variety of reason that suit the individual fighter.  These Include:
Protection from Physical Harm and Danger
Bravery and Courage
Good Luck in all areas
Strength and Power
Mental Clarity and advance Strategic Thinking
Protection in all Areas
Peace and Calm
Dedication and Determination
As each Traditional Thai Sak Yant Tattoo for UFC, MMA and Muay Thai fighters have different representations, you will often see more than one Sak Yant on professional fighters.
Sak Yant Tattoos for UFC, Muay Thai Tattoos and Mixed Martial Artists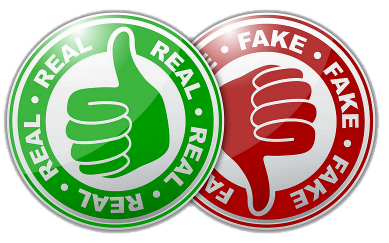 The last thing a future UFC, Bellator, Muay Thai Mixed Martial Artists need as their career progresses is a Fake Sak Yant obtained from a Tattoo Shop.  Especially as a Fake Sak Yant Tattoo is so easily recognized when seen by a vast majority of other Martial Artists.
Fighters can easily avoid constant future embarrassment by using a Trusted Sak Yant Master recommended by their Muay Thai training gym; or a trusted expert like Sak Yant Chiang Mai.
The Following Muay Thai Tattoo Designs are the most popular for MMA/UFC/Muay Thai Fighter because of the design meanings and Blessings. However you can find out about more Sak Yant designs in our article Sak Yant Designs and Meanings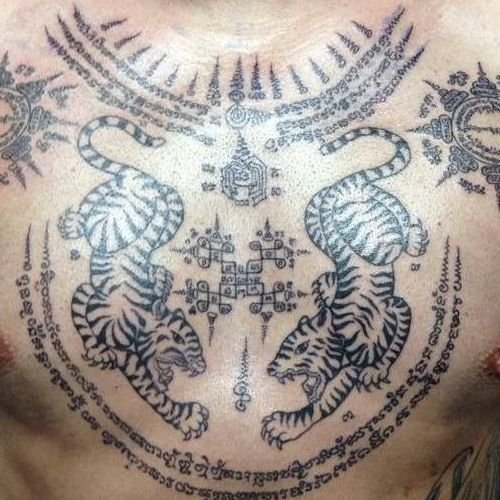 Twin Tiger Muay Thai Tattoos Sak Yant for MMA Fighters
Tiger Sak Yant Tattoo for MMA Fighters comes in a variety of different designs with the most popular being the Twin Tiger Sak Yant. Other Tiger Sak Yant tattoos for Martial Artists have the Tiger looking back, the Headless Tiger and so on.
The Twin Tiger Sak Yant Tattoo is common among Thai people with dangerous occupations and Muay Thai Fighters.  The Tiger represents strength, power, protection and conviction, as well as authority over ones subordinates. It is one of the most popular Muay Thai tattoo designs for fighters who would wish to emulate the strength and the power of a tiger in the ring.  This type of Sak Yant would be useful when the fighter relies on their brute strength to overcome their opponent rather than having well rounded skill sets of techniques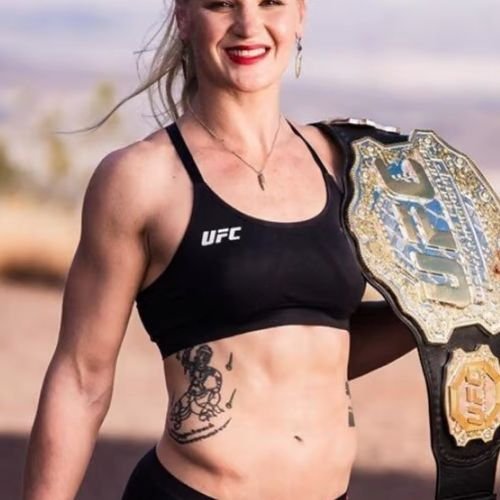 Hanuman (Monkey God) Sak Yant Tattoos for MMA and Muay Thai Fighters
One of the most popular tattoos among Muay Thai fighters is Hanuman.  Hanuman is the Hindu mythical Monkey God in the time of Rama and  is invincible and has powers far greater than humans, including the ability to fly. In Thai culture Hanuman leads a monkey army to rid the world of unwanted spirits. His main traits were humility and bravery, he was looked upon as hope for humanity, demonstrating to man that a mortal being can in fact rise above the shallowness of our worldly plain.
There are different variations of Sak Yants with Hanuman. It is obtained and used to bestow the wearer with the qualities of protection  from danger as well as becoming fearless in the face of adversity. Hanuman also helps to strengthen self-confidence and can influence people on your behalf. It is also said to help one stay focused and gives the determination needed to see something through to a successful conclusion.
The belief is that the bearer will gain the benefits of bravery and courage.  Hanuman is worshiped by many people as a symbol of strength, perseverance, and devotion.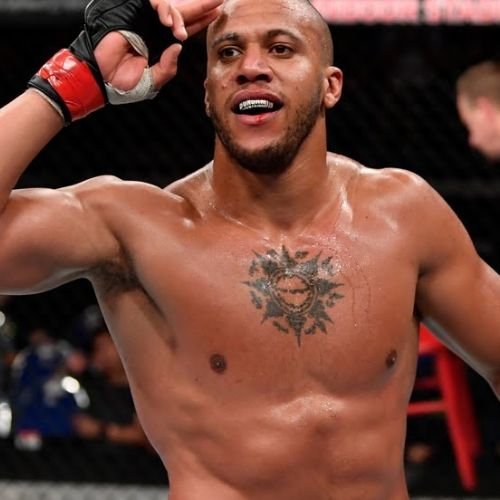 Paed Tidt (Eight Directions) Muay Thai Tattoos Sak Yant for MMA Fighters
The Paed Tidt Sak Yant Tattoo for MMA Fighters (also known as the 8 Direction) will give you protection from harm and danger for any direction and ward off evil.
The circle represents one's life with all the distractions that one has to encounter. The straight lines up represent the paths to enlightenment.  For the Mixed Martial Artist, or Muay Thai Fighter, the 8 Direction is ideal for a strong defensive style, where you are protected both by oncoming threats and have safety in each direction you might move.
A fighter might choose this design to enhance a counter attack style they already have, or as an aid to improving on defense and attack if they do not.
In addition the 8 Direction is a Master Yant, so it provides overall protection and good fortune for the wearer in dangerous occupations or traveling.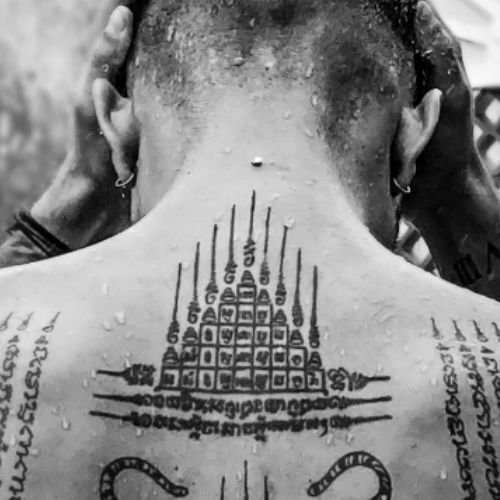 9 Peaks Sak Yant Tattoos for MMA and Muay Thai Fighters
The 9 Peaks of Buddha or Gao Yord Sak Yant Tattoo is another one of the all purpose Master Sak Yants.  The 9 Peaks is within itself a multi purpose protection amulet that covers protection and success in all areas of life that can be related to the world of UFC and fighting.
Within the Gao York Fighters Sak Yant are the following Blessings:
improve your popularity and help you to gain preferential treatment.
This benefit ensures that the wearer will not suffer serious injury.
The ability to defeat the enemy.
Great power, authority and control over other people.
A willingness to go to war or to fight battles
Magical protection and invincibility.
Bring great good fortune and luck.
Improve your destiny, fate
Give protection against accidents including protection against acts of violence.
A popular choice to go in the middle of the back it allows for the addition of a couple of 5 Line Sak Yants as well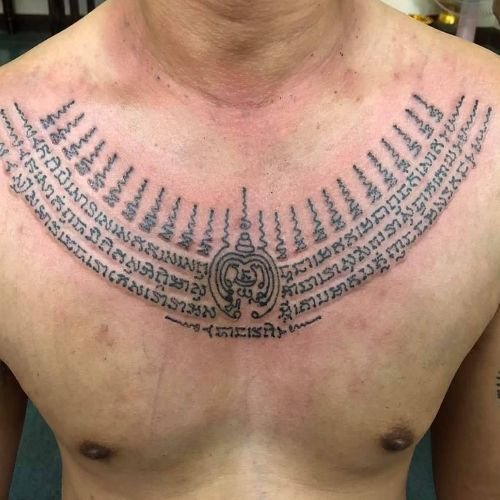 Sangwan Necklace Muay Thai Tattoos Sak Yant for MMA Fighters
The Sangwan Necklace Sak Yant Tattoo for MMA Fighters is another very popular Muay Thai Tattoo for fighters.
A wide variety of designs are available with most of them being a 3-layer necklace, sometimes with an additional Yant placed in the middle.
The Sangwan Sak Yant tattoo has 3 lines which mean
A virtue of great mercy
Great power and prestige
Invulnerable, avoiding danger
This Sak Yant is often selected by MMA fighters for its ability to make them invincible without the need to destroy their opponents. A great choice for the fighter who finds themselves getting emotionally carried away during fights to remain in control of the rage and violence and provide mercy when needed to the defeated fighter
5 Line (Hah Taew) Sak Yant Tattoos for MMA and Muay Thai Fighters
The Hah Taew Sak Yant Tattoos for MMA Fighters is another Master Yant which contains blessings for both fighting and personal life qualities. This 5 Line Tattoo design dates back over 500 years and is one of the reasons the Sak Yant has gained a world wide reputation for developing protection and invincibility.  
The first row prevents unjust punishment and leans in your favor when the area is grey, cleans out unwanted spirits and protects the place you live in.
The second row reverses and protects against bad horoscope constellations and bad fortune.
The third row protects you from the use of black magic and anyone who tries to put a curse on you.
The fourth row energizes your good luck, success and fortune in your future ambitions and life style.
The fifth row is to gain charisma and attraction to the opposite sex. It is also is a boost to the fourth row.
The 5 Line Tattoo for Muay Thai is used as a general good luck and protection, and as a counter balance for other Fighters Tattoos that are positioned in the middle of the back.
Sak Yant Tattoos for MMA/Muay Thai Tattoo Combinations
Because different Sak Yant designs for fighters represent different meanings, it is not uncommon for a MMA fighter to have a variety of Sak Yant Tattoos. Sak Yants have been designed over many hundreds of years to work together and as such the designs can merge seamlessly into each other creating an overall design.
Traditionally getting a MMA Sak Yant Tattoo is done as the fighter feels they are required to enhance their fighting ability and quality of life.  Now days as Mixed Martial Artists come to Thailand and train in Muay Thai, many fighters choose to get a few Sak Yants at the same time while they are here and able to obtain the real Sak Yant.

Real Sak Yant Tattoos for Fighters are applied by Sak Yant Masters (Not Tattoo Artists) who will chant magical spells during the application of the design and provide a Blessing at the end of the experience. Because the Sak Yant Masters first and primary skill is a knowledge of magic and spells, a true Sak Yant Tattoo (with real magical text included) will often times not have the clean and artistic lines that a fake provided by a Tattoo artist might.  For many MMA and Muay Thai fighters, this is a testament to the purity of the art and profession as a fighter, and makes the time and effort to obtain the real thing an important part of their training and life.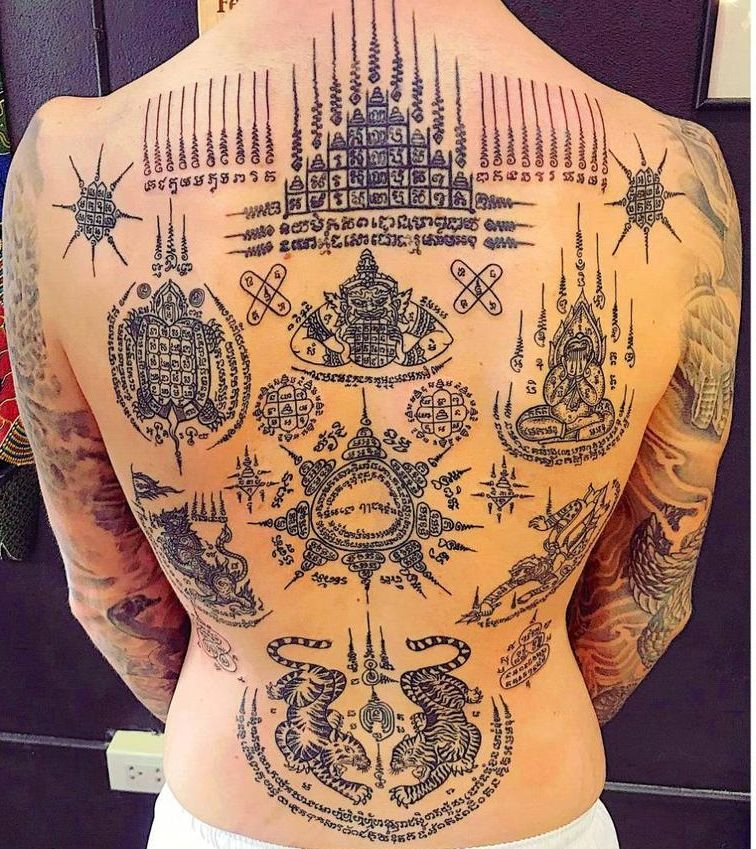 Full Back Combination Sak Yant Tattoo's
As a Fighter, you might be interested in getting all your Sak Yants in a single sitting.  Your can find out more at the
Full Back Sak Yant Tattoo
Page
Sak Yant Chiang Mai is Thailand's leading Sak Yant provider – Over 10 Independent Sak Yant Masters working in Hygienic and comfortable Samnaks