How to get a Sak Yant Tattoo in Thailand
Where is the Best Place to Get a Real Bamboo Tattoo in Thailand | Sak Yant
When it comes to tattooing, there are few cultures that can rival Thailand's rich and vibrant history. For centuries, the people of Thailand have been getting inked with sacred tattoos, known as Sak Yant tattoos. These tattoos are more than just pieces of body art; they are a symbol of spirituality and devotion to one's beliefs. In this article, we will take a closer look at the art of Sak Yant Tattoo in Thailand, how to avoid getting a fake from the well established Tattoo Parlor scams and the 3 most popular parts of Thailand to get a Sak Yant Tattoo.
Where to Get a Sak Yant Tattoo in Thailand
Looking for the best place to get a Sak Yant Tattoo in Thailand? Getting a real Sak Yant tattoo in Thailand is actually a pretty easy thing to do.  There are many Sak Yant Temples with Monks who will preform the Tattoo and Blessing.  Lots of independent Sak Yant Ajarn Masters listed throughout Google Maps and Facebook, and thousands of Tattoo Artists and studios providing fakes for the gullible tourist.  So you might be wondering where is the Best place to get a Sak Yant in Thailand?
The simple answer for those people with a limited tour itinerary is the Sak Yant Master closest to where you are staying. This article will cover the 3 most popular and established locations in Thailand to get a Sak Yant Tattoo
How to get a Sak Yant Tattoo in Chiang Mai
How to get a Sak Yant Tattoo in Bangkok
How to get a Sak Yant Tattoo in Phuket
It is not recommended to get a Sak Yant in Thailand from one of the many Islands, as they are rampant with the Fake Sak Yant Scam promoted and done by Tattoo Artists.
While this is the case for all cities in Thailand, the competition of Tattoos in Thailand is especially fierce in the tourist hotspots.  This makes the urge to put customers and profit over ethics and morals especially challenging for tattoo artists.
1st thing to know - Avoid the Fake Sak Yant Bamboo Tattoo Scams by Tattoo Shops
Tattoo Parlors and normal Tattoo Artists CAN'T do a Sak Yant Tattoo
Sak Yant tattoos are traditional tattoos that have been practiced in Thailand for centuries. They are usually done by Buddhist Monks or Sak Yant masters who use a steel rod called a Kem.  Sak Yant tattoos are believed to have magical powers and are often used as protection against evil spirits or for good luck. The power of the Sak Yant comes from the spiritual practice and lifestyle of the Sak Yant Master.
Choosing a Sak Yant Master
Choosing the right Sak Yant master is crucial if you want to have a safe and meaningful experience. It's important to do your research and choose a reputable and experienced Sak Yant master.  Sak Yant Masters spend years training in how to read the magical text and apply the correct blessings.  A real Sak Yant master only does Sak Yant Tattoos.
The Fake Sak Yant Bamboo Tattoo Tourist Scam
Many tattoo studios all over Thailand will advertise bamboo tattoos, in the hopes of attracting gullible tourists who have not done any research.  A Tattoo artist can not only read the incorrect magical text on the designs the downloaded online – they can not administer any magic or power to the meaningless designs they create. Providing a fake Spiritual and Cultural tradition (like a Sak Yant) is very disrepectful.
For more information you can read a detailed article "Why you don't get a Sak Yant at a Tattoo shop"  Perhaps the most important thing to realize, is that the Traditional Thai Bamboo Tattoo is a Spiritual and Magic amulet worn on the skin.  Spiritual purity is not an important lifestyle trait of a Tattoo Artist – especially one who tries to convince the public that the tradition, translation and magical blessing are not important aspects of a Sak Yant Experience.
Best Place to get a Sak Yant Tattoo in Thailand
1) Best Place to Get a Sak Yant Tattoo in Thailand? - Sak Yant Chiang Mai
The best place to get a Sak Yant Tattoo in Thailand is Sak Yant Chiang Mai, in Northern Thailand  A co-op of over 10 local masters, both Monks and Ajarns, providing authentic Sak Yant and blessings from Samnaks and Temples at half to a third the cost of Bangkok or Phuket
Sak Yant Chiang Mai was set up in 2017 when a few Temple Monks asked a guide they trusted to represent them in an official capacity.  The Monks then invited other Sak Yant Masters they knew and Sak Yant Chiang Mai became the leading Sak Yant provider outside of Wat Bang Phra in Bangkok.
As a co-op of many different Masters Sak Yant Chiang Mai is able to provide both Temple Monks at the Temple and Ajarns working from their own Samnaks in the city center.  And they can provide Sak Yant Tattoos in Thailand for less than both Bangkok and Phuket where the cost of living is much higher.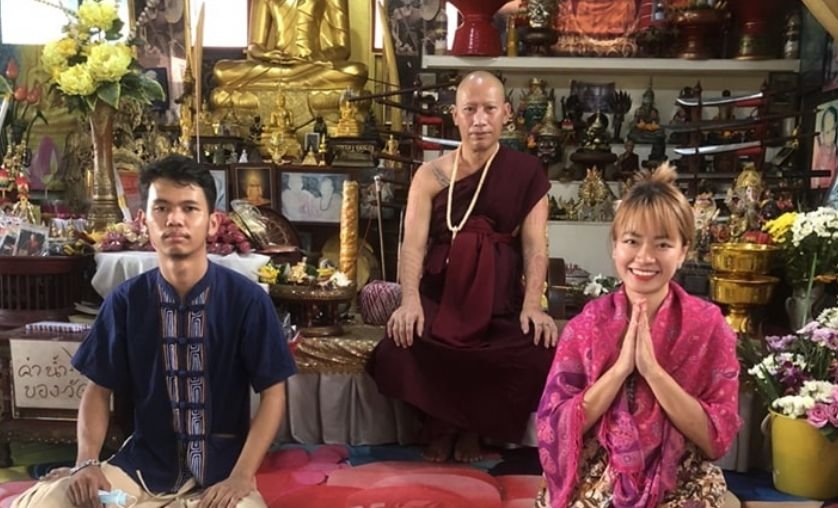 Sak Yant Chiang Mai has 100's of Reviews saying "Best Experience in Thailand"
服務很親切 讓人覺得安心 環境整潔 阿贊手法很快速 刺完很好看
Super expérience, un tatouage magnifique et tout le personnel est vraiment incroyable ???? je reviendrais pour un prochain tatouage c'est certains
Excelente lugar, el staff es muy amable y simpático. Estuvimos esperando un rato para pasar a tatuarnos y nos dieron té y galletas, con conversaciones muy interesantes. Gente realmente involucrada con el budismo y respetuosa a la hora de llevar a cabo la ceremonia.
Catalina Jubany
29/11/2023
I received my tattoo yesterday. This was a magical experience I will cherish forever. The staff was helpful and kind. The temple was gorgeous. If you are Buddhist or a tattoo lover this is a must try.
Awsome experience, very kind and professional staff & Ajarn ???? I got exactly what I wanted! 100% reccomend.
What a fantastic spiritual experience. One of the highlights of my trip to Asia so far. I did lots of research Into getting Sak Yant and I am pleased I did. I had mine performed by the monk at one of the temples they use. It was a very personal experience and my translator was amazing - she was very helpful and told me everything I needed to know before and during the trip. I have some previous tattoos from a normal tattoo gun which were painful so was unsure what to expect so for the first time with the traditional technique I used numbing cream (purchased from celebrity ink in Chiang mai) it helped massively and I couldnt really feel much until it was on the spine and back of the neck. Strongly recommend. Also if you have your own prayer beads take yours and the monk will bless for you after he is finished performing the tattoo. I am so happy and wish you all luck if you get yours ????????
Amazing place to get a real Sak Yant tattoo in Chiang Mai
Juliana Santos
27/11/2023
Very intense and unforgettable experience
Amazing experience, Staff is super friendly and the ajarn made it a beautiful experience.
Andrej Milovanovic
24/11/2023
Had an amazing Sak Yant tattoo experience at Sak Yant Chiang Mai. From meticulous tattooing to meaningful explanations, every step was executed with care. Highly recommend Sak Yant Chiang Mai for an authentic and personalised Sak Yant experience. Grateful to the talented team for an unforgettable journey. Thank you Ajarn Sam, Khun Non and the entire team.
4 Reasons the best place to get a Sak Yant in Thailand is in Chiang Mai
Getting a Sak Yant Tattoo in Chiang Mai is Cheaper
The cost of living (including holiday stays and tourist activities) is as much cheaper than the more common holiday destinations of Bangkok, Phuket and the Southern Islands like Kho Pi Pi.
If cost is a factor of deciding where to get a Sak Yant Tattoo in Chiang Mai, over other places you can expect to pay usually 50% less, and in sound cases up to 70% less than other locations in Thailand
Chiang Mai is Beautiful and Spiritual
Chiang Mai has the beauty of mountain forests and over 300 Temples in the local area – the culture is steep in Spirituality.
If you are getting a Spiritual Sak Yant, the experience of a rural temple surrounded by countryside is a much more appealing option that the noisy and dirty streets of Bangkok or the view of speedo wearing tourists wandering past the window in Beach resort Islands
Masters in Chiang Mai are More Knowledgeable
The Sak Yant Masters in Chiang Mai know almost every other Sak Yant Monk or Ajarn in the area and beyond.  You will often find that the Chiang Mai Master can identify any previous Sak Yants you have and who did it
In areas like Bangkok and Phuket, Sak Yant Masters don't mingle, often never meeting after living 4kms apart for over a decade.  This lack of sharing results in limited knowledge and a dilution of magical wisdom and subsequent strength of the power of the Yant
Sak Yant tattoo in Chiang Mai is usually nicer looking
Getting a Sak Yant Tattoo in Chiang Mai usually means use of the local Lanna Script.  The Sak Yant Masters believe that the magic contained in Lanna is more powerful than the Pali script used elsewhere.
Not only More Powerful Sak Yant's, the Lanna script is a much nicer looking script – something that is especially important when you want your lifetime Sak Yant Tattoo to look good as well.
2) Getting a Sak Yant in Bangkok - Wat Bang Phra Temple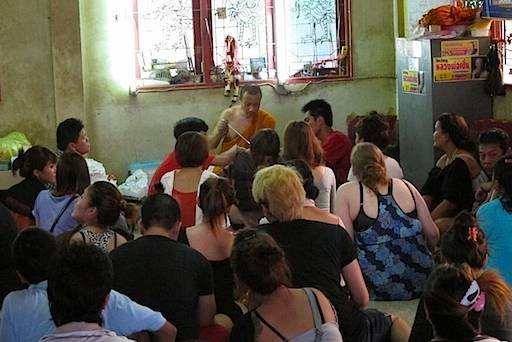 The number one tourist place to get a Sak Yant in Bangkok is Wat Bang Phra. Wat Bang Phra is a popular Sak Yant Temple located in Nakhon Chai Si, about 50 km outside of Bangkok city.
The temple is known for its traditional Sak Yant tattoos, which are believed to offer spiritual protection and blessings.Visitors to Wat Bang Phra can experience Buddhist culture and spiritual practices, as well as witness the unique art of Sak Yant tattoos being created by the monks.
Most of the blogpost articles you will find outline are from people who took the day to visit this Temple and obtain a Sak Yant Tattoo.
At Wat Bang Phra you will purchase your offering outside of the Temple for a few dollars.  Many people mistakenly think that this is the cost of the Sak Yant – it is not.  The Monks will have specific prices for each design and unless you ask – you might just get what the Monk decides they feel like doing.  If you do not pay enough in the Sak Yant donation – you might also suffer from them reusing the ink and needles of the previous person.
Many myths and misconceptions have come about from travelers who did not take the time to understand the significance of the Sak Yant traditions at Wat Bang Phra.  If you decide to go here, it is important that you prepare in advanced and you should take a Thai speaking person with you to ensure you get what you want (and understand the experience) rather than repeat the unhygienic tattoo that many travel bloggers write about.
3) Getting a Sak Yant in Thailand - Bangkok Real Sak Yant Ajarns
There are many real Sak Yant Masters located in Bangkok who have listings in Google Maps and Facebook pages.  This is because most will have trained at Wat Bang Phra and simply because Bangkok is so large.  There are also many tattoo studios who also promote getting a Sak Yant tattoo in Thailand.
When choosing which Sak Yant Master who wish to go to, it pays to research the links presented in their social media.  If the tattooist is also advertising a variety of other tattoo designs – there is a good chance they are merely unethical tattoo studios trying to capitalize on the popularity of Sak Yant designs.
To help spot the difference between a real Sak Yant Master in Bangkok from the tourist scam replica you have a look at the photos they present.  If it looks like a tattoo shop, move on to the next listing.
We have created a more detailed article here For a more detailed article on Getting a Sak Yant Tattoo in Bangkok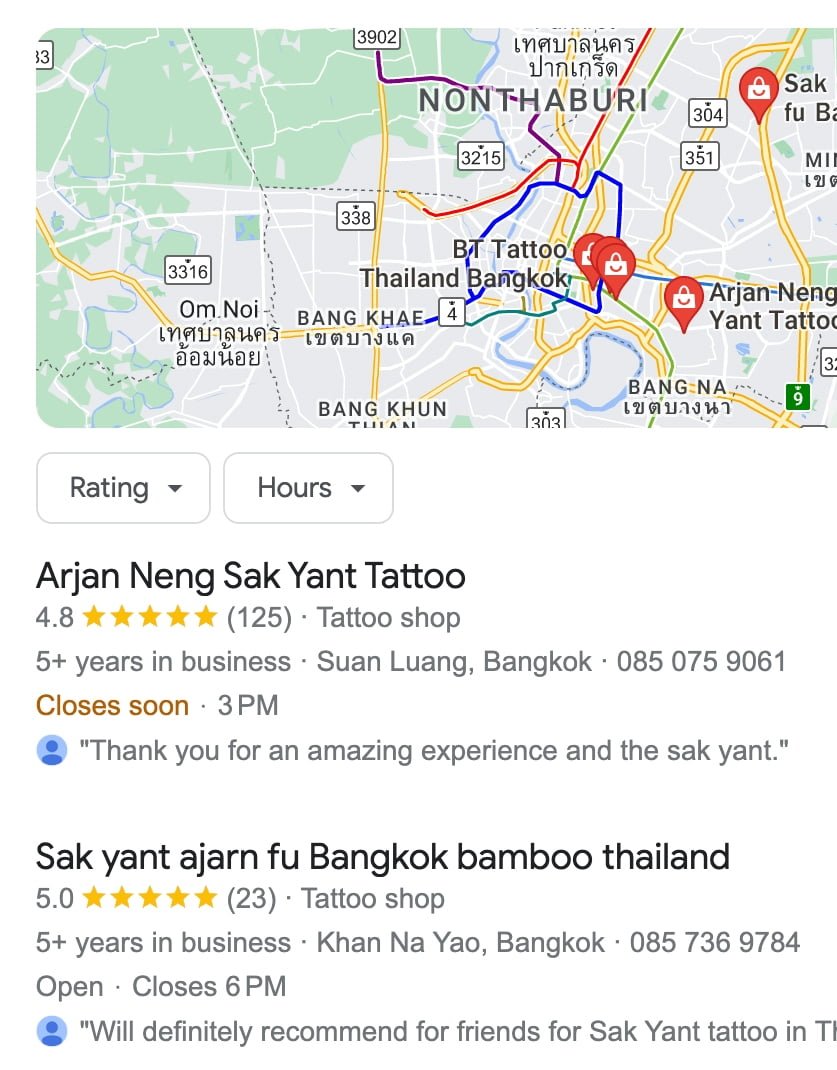 4) Getting a Sak Yant in Phuket Thailand
Getting a Sak Yant Tattoo in Thailand while in Phuket is easy to do.  There are three real Sak Yant Masters (we know of) located on the Phuket Island.  Once again when you use Google Maps or Facebook to search, many tattoo shops will also come up.  You should ignore these and find a real Sak Yant Master.
We have added the links to each just click on the photo.
Our job at Sak Yant Chiang Mai is to make your Sak Yant Choice Easy!
We know that making the choice of where to get a Sak Yant in Chiang Mai can be confusing. We will talk with you about your desires and intentions and choice of designs.  We will make sure you understand the process and how to act when in front of a Sak Yant Master and receiving a Tattoo. We will provide you with the Rules after obtaining a Traditional Thai Tattoo and provide medicated ointment. We go above and beyond anyone else making Sak Yant Chiang Mai the best place for finding out how to get a Sak Yant Tattoo in Chiang Mai, Thailand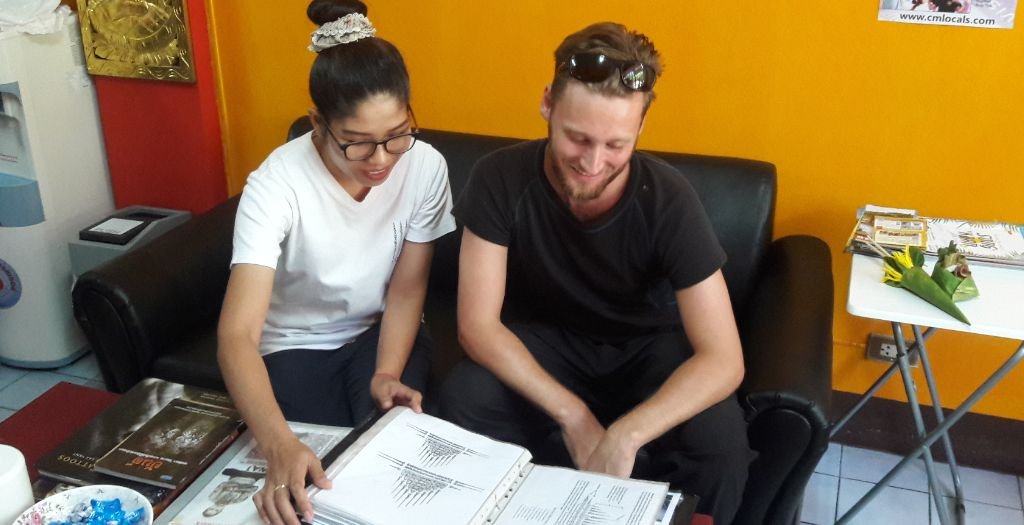 Talk to us about your Intentions
We understand all the options can make the choice a difficult one.  When it comes time for you to make a booking just let us know ….
Temple Tour or In-house Service
If you are Male or Female (Or if both tell us in the notes)
We will take care of all the rest and ensure you have a magical experience by selecting from one of over 10 Monks and Ajarns we have available.
How Much do Sak Yant Tattoo Cost in Thailand?
Thailand like any other countries costs more to live in the popular tourist areas than it does in the normal towns and cities around the rest of the country.  This is reflected when asking the question how much does a Sak Yant cost in Thailand?  Sak Yant price in Thailand will range from $30-1200 depending on what, where and who does the Sak Yant.  Sak Yants have never been done for a donation that you think is suitable.  This is never something Thai people do and a myth created by travel bloggers who went to Wat Bang Phra and could not speak Thai and never asked how much to donate.  You can read more about why Sak Yant Tattoos are not Free
There are two costs with getting a Sak Yant Tattoo.  The Offering (to show respect to the Sak Yant Master) at around 20-200 baht and the Donation for the Sak Yant itself.  The donation costs depend on the size and complexity of the design and how much of the Sak Yant Masters time will be involved.
A Fake Sak Yant at a Tattoo Shop in Thailand will cost anywhere from $140-$250 depending on the location. 
Cost of a Sak Yant Tattoo in Bangkok Thailand - Wat Bang Phra
The cost of a Sak Yant Tattoo in Bangkok at Wat Bang Phra starts with the offering costs of 200-250 baht.
The costs of the actual Sak Yant donation requested depends on the level and skill of the Sak Yant Master who will provide it, starting at around $10 and up.
You also need to facter in the cost of the Taxi to travel the 2.5-3 hours there and back and any inconvenience for spending a whole day waiting for your turn.
Cost of a Sak Yant Tattoo in Bangkok Thailand - Sak Yant Ajarn
The cost of a Sak Yant Tattoo in Bangkok with an Ajarn starts with the offering costs of 20-30 baht from the local markets
If you can speak Thai and go to a more rural Sak Yant Ajarn the costs start at about $40.
If you go to a Sak Yant Ajarn who speaks English or has English speaking staff the prices range from about $100-500 depending on the reputation of the Master
Cost of a Sak Yant Tattoo in Phuket Thailand
There are no Temple Sak Yant Temples in Phuket, so the only option is an Ajarn.  The donation which you get at any market is around 40 baht.

The cost of a Sak Yant Tattoo in Phuket start around $120 and can go up to $300 depending on the Ajarn and the size of the Sak Yant Tattoo
Cost of a Sak Yant Tattoo in Chiang Mai Thailand
The cost of a Sak Yant Tattoo in Chiang Mai if you speak Thai and can arrange with a Monk at a Temple a time starts around $30
If you are unable to speak Thai then Sak Yant Chiang Mai offers 1 hour time slots for the full Sak Yant Experience starting at $55 for an In-house and $110 for a 3 hour Temple Visit